Paul Madison
3-25-14
In Arsène We Trust? Probably not anymore.
Back in November, Arsenal were running away with the Premier League. Between losses to open the season at Aston Villa and away to Manchester United, Arsenal acquired attacking midfielder Mesut Özil from Real Madrid for a club record fee of £42.5 million (reversing a troubling trend of giving away top talent instead of buying it), and accumulating 25 of a possible max of 27. The only hiccup was an away draw to West Bromwhich Albion. Arsenal led the table, defeating Liverpool in the process, and were playing some of their best football under Wenger since 2010/11, when Arsenal's vaunted youth were becoming men. Such players as Cesc Fabregas, Alex Song, Samir Nasri and Robin van Persie were combining to play sublime footy and stretching teams to their maximum all across the pitch. This team, featuring Jack Wilshire, Aaron Ramsey, Oliver Giroud and Mesut Özil, were showing what Arsenal were capable of again.
Despite the brief setback to rivals Manchester United in Old Trafford, Arsenal then took the maximum 9 of 9 points in the next three matches to reassure fans of their place at the top of the table. That backing was short lived however, as Arsenal then took only 2 of the next 9 points, with draws of 1-1 and 0-0 at home to Everton and Chelsea, respectively, as well as suffering a beat down in Manchester, with it this time at the feet to City, with the scoreline looking even worse than the 6-3 score would indicate. Arsenal then righted the ship again to maintain fans and pundits belief they could compete for their first Premier League title since 2004, by winning 6 of their next 7 matches, with a draw to Southampton spoiling their perfect post-Christmas unbeaten streak. Up until this point in time, February 3rd, 2014, Arsenal had also advanced into the final 16 of the Champions League, and to the 5th round of the FA Cup. Things were looking ideal for the Emirates outfit.
Then the wheels all but fell off. Arsenal were exposed away to Liverpool (whom they had defeated earlier in the year at the Emirates) 5-1. They drew at home to Manchester United (sitting in 7th place and desperate for a good result) 0-0. Then won at home 4-1 vs. Sunderland, lost 1-0 away to Stoke, won 1-0 away vs. bitter rivals Tottenham, and then the latest catastrophe at the hands of local rivals Chelsea 6-0 at Stamford Bridge. Also during this time, Arsenal were shown the door in the Champions League (again) by Bayern Munich. Their only saving grace was their advancement past Liverpool in the FA Cup 5th round, and then Everton in the 6th round.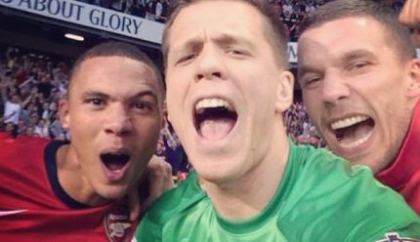 Better times for Arsenal, 1-0 win against Spurs
This is becoming a running joke for Arsenal. Keep it close and stay in the hunt through January, become exposed and ousted from all prestigious competitions, then scramble in order to finish fourth in the league and maintain the Champions League play-in spot to continue the strong revenue. Arsenal have not won a trophy since the FA Cup was lifted in 2005, a point emphasized by their rivals. I myself may have indulged in this jab a few times. They have not finished higher than 3rd since 2005/06. While usually displaying flowing, beautiful, attacking football, they often play a defensive, possession based style against higher quality sides, both in the league and in Europe.
From 1997-2005, Arsenal finished either 1st or 2nd in the league (winning it three times), and dominated the FA Cup in the same span, winning it four times. Along with Manchester United, they were the dominant squad in Britain, with their finest hour seeing them go unbeaten for the entire 2003/04 domestic campaign, finishing 26-12-0, joining Preston North End (1888/89) as the only British clubs to accomplish the feat. With the squad and manager covering themselves in glory this much, it was not even a thought this would be one of the last tastes of it for Arsenal and their French manager Arsène Wenger. Since his appointment in 1996, all he had done was win.
Arsenal is a proud club, the 3rd most successful English side, winning 37 domestic trophies (only behind Liverpool and Manchester United). With only the FA Cup left to play for this season, one has to wonder if the hierarchy has to be thinking if it is last call for Wenger. The first half of his reign was full of silverware. The second, nothing. After such teasing and financial outlay, how much longer can he survive on the scraps of the BPL without showing any kind of improvement? Liverpool went from 7th last season to looking very much in the mood to win their first Premier League era title. Why can't Arsenal, who have a bevy of talent at their disposal and a manager proven to be capable of winning, stay at the top? Some say they don't have enough talent. Some say their manager has lost his edge. Some say they haven't spent enough (yet they are ahead of their rivals, Spurs, who laid out over twice as much on their current squad).
It all comes back to the FA Cup. With all the big boys knocked out, Arsenal has a clear path to the final and winning a trophy. It's all right there for them. Next up in the semi final is last season's winners in Wigan Athletic, but they currently sit in the Championship division (one below the Premier League). The other two remaining clubs are Hull City (sitting in the relegation zone of the Premier League) and Sheffield United, who ply their trade in League One (two below the Premier League). It doesn't get any sweeter if you are a Gooner (a fan of the Gunners). With the Prem looking a lost cause and another 4th place finish inevitable, this is the only salvation.
Arsène Wenger has to get it done now. This may be his real last call. His season has gone de la promesse, de ruiner, "from promise to ruin". This is the moment for him to decide if he wants to remain at Arsenal another year, retire on a high note, or be booted from the club he helped resurrect and of which built a statue in his likeness. Time is running out on his French Empire in London. Only he can decide if he goes out with a bang or a murmure.
Wigan awaits.